On Friday March 16th, our newest employee Anushree Dave had the opportunity to present at the Consortium of Universities for Global Health's annual Conference hosted by Columbia University in New York City. The following blog post highlights her experience.
On March 16th, I had a chance to present at the Consortium of Universities for Global Health's annual Conference hosted by Columbia University in New York City. The CUGH brought together approximately 1,800 individuals from over 50 different countries and attendees included government officials, academics, educators, physicians, and individuals from the private sector. The theme was "Health Disparities: A Time for Action" and the talks over the three-day conference focused on the increasing gap in opportunity, security, prosperity, and health between the global poor and middle class, and the rich. The conference wrapped up with a panel on strengthening governance and public health institutions moderated by Chelsea Clinton. Below I highlight key takeaways from the conference, provide a summary of my presentation, and discuss how my involvement with the CUGH ties in with our goals and vision here at the EPICentre.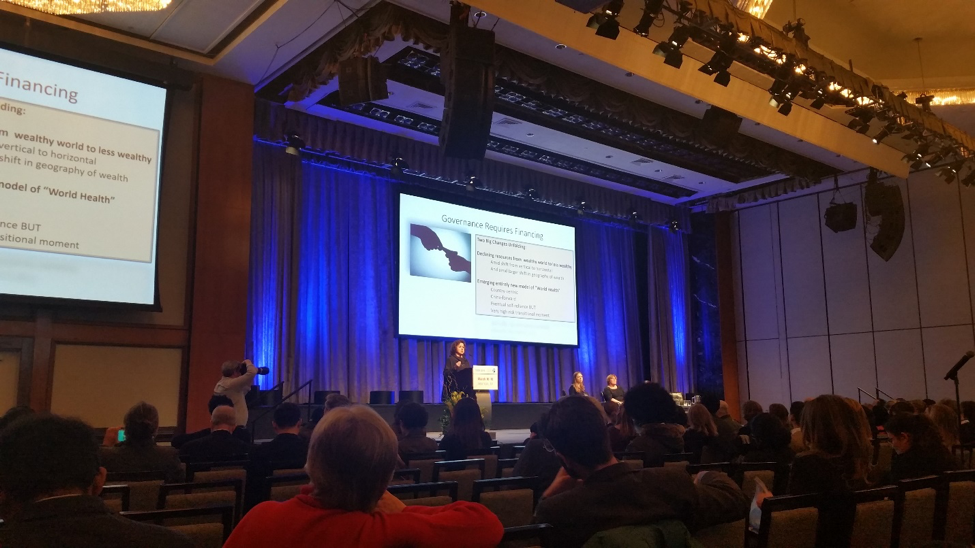 On my first night in New York, I attended the Pulitzer-CUGH Global Health Film Festival which showcased a series of short documentaries made by award-winning filmmakers and Pulitzer Center journalists. The next day, I presented my work on the ethical considerations of disaster research publications. This research was funded by a CIHR-grant on disaster research ethics at McGill University where I completed a master's in biomedical ethics. The objective of this work was to assess how ethics is considered and discussed in disaster research conducted in low-to-middle income countries. I concluded my presentation with recommendations on ways to increase transparency and accountability in disaster research literature. My work was well-received, and I had the opportunity to discuss my findings with others that attended my presentation.
The most interesting part of the conference was the talk I attended on health and social entrepreneurship. A panel of four individuals discussed how their respective communities have used the power of collective action to address to complex social issues. Claire Houlihan, a research associate at the University of California, discussed how social media technologies can be leveraged as a tool for social entrepreneurship. Ashley Gomez, an evaluation and impact manager at Grameen PrimaCare in New York, shared an engaging presentation on the Promotora Model – an effective method of health care and education delivery. Allison Matthews, Director of the 2BeatHIV Project, talked about moving from research to social enterprise (pictured below).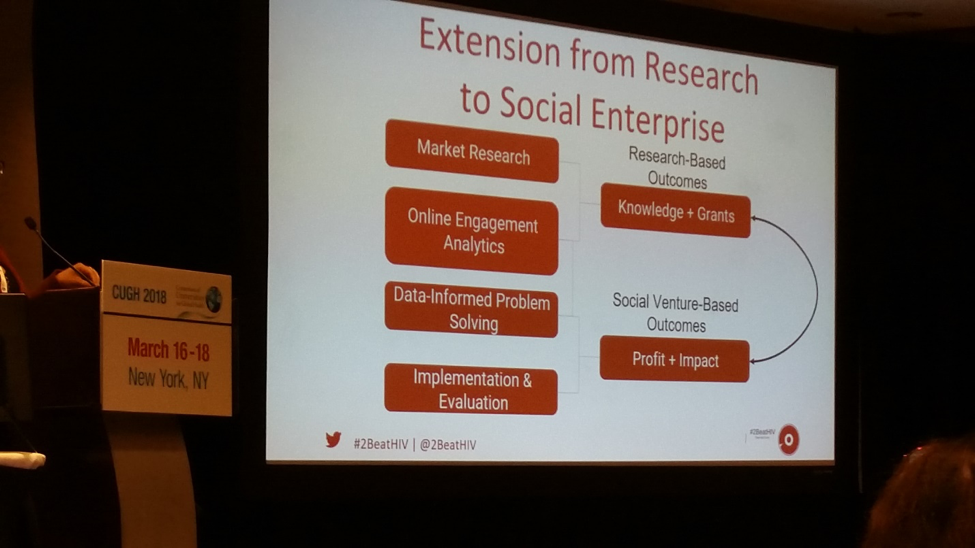 Overall, I learned that with enduring passion, grit and the right resources, a small group of inspired individuals have the power to bring about large-scale meaningful change. EPICentre's focus on social innovation and enterprise aims to be the 'right resource' for students who want to address the complex social issues around them. Whether it's mentorship, working space, workshops/events, networking, or funding, EPICentre can help anyone go from idea to execution. I look forward to seeing how our efforts here will support people as they strive to tackle some challenging social issues in our community and beyond.