EPICentre was proud to sponsor the Winter Hackathon, which took place over the weekend at the University of Windsor from January 27th to 29th, 2017. This event was co-organized by the School of Computer Science and Hackforge. Seventeen teams consisting of fifty students took part in this coding competition. Teams had to select one of the various challenges presented by the community/private sponsors and were tasked with presenting a solution at the end of the competition.
Congratulations to our incubator member, Moaaz Elsayed and past EPIC Founder participant Colin Matthews, along with their team member, Zac Shaver, for winning the Best Overall Award. The Most Commercial Potential award, sponsored by EPICentre, was won by Atilla Saadat. Atilla will receive an automatic acceptance to the EPIC Founders program, which runs in the summer, where he will be paid up to $6,000 to work on his business idea.
Below is the complete list of the awards, their winning teams and the challenges they tackled:
Best Overall:
TransitAR (City of Windsor API Challenge)

Moaaz Elsayed
Colin Matthews
Zach Shaver
Atilla Saadat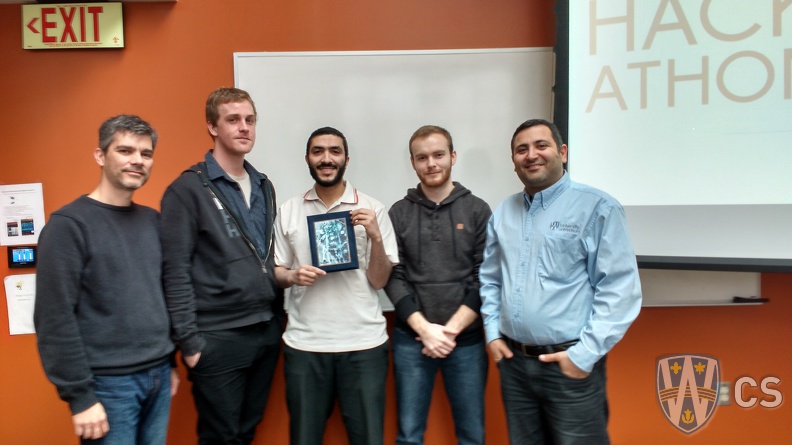 EPICentre Most Commercial Potential Award:
Team GeoRisk (AMF Challenge)
Most Creative:
Team GoBot (Open Data Windsor Essex Challenge)

Clovis Nogueira
Yadwinder Singh
Judges' Favourite & Bike Windsor Essex's Pick:
Team BRAV-O (Bike Windsor Essex)

Vikneshwaran Seetharaman
V N Bharadwaja T
Rumana Hakeem
Areeba Kamal
Best Use of Data
Mighty Pythons (Open Data Windsor-Essex Challenge)

Javeriya Khan (Zoya)
Atish Lewate
"The indicators for the success of this event are twofold: 1) student participation, providing them with exceptional experience and opportunities, and; 2) making good on industry commitments and building relationships to promote our internship program for them," said Dr. Ziad Kobti, Director and Professor of the School of Computer Science.
This Winter Hackathon was featured on CTV News. Watch it on http://windsor.ctvnews.ca/video?clipId=1045943