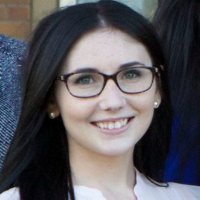 Jaimie Fox – winner of the LucasWorks! Scholarship
LucasWorks is awarding a scholarship to one University of Windsor student who is either involved in starting a business or who is actively involved with the Entrepreneurship Practice and Innovation Centre (EPICentre). Jaimie Fox, a fourth year student at the University of Windsor was the first recipient to receive this scholarship. Jaimie has devoted many hours working with EPICentre and has actively participated as a project manager for the business consulting course at the University of Windsor.
Maureen Lucas has always been a promoter of leadership and entrepreneurship. "The LucasWorks Scholarship for the University of Windsor was set up to benefit two things that are very important to the community and to me personally – Female Leadership and Entrepreneurship.  I feel strongly that each generation of entrepreneurs should contribute in some way to the next generation and that is the reason that LucasWorks set up this scholarship.  Jamie is an exceptional example of leadership, intelligence and motivation; all of which are integral qualities of an entrepreneur," she declared in a statement.
Congratulations to Jaimie on the scholarship!