It was the second week of March and I was getting ready for exam season. The University of Windsor sent out an email to every student inviting them to apply for GESS, a global entrepreneurship summer school. I've had my fair share of entrepreneurial activities and never really had a reason to travel outside of North America before. I opened the email, filled out the application, wrote a short essay about waste management and fired on over my application. It wasn't until a few months later (when I found out I had been accepted) that I really learned about what GESS is all about.
On September 18th mid-afternoon I hugged my parent's goodbye, thanking them for the support on this journey, turned around and stared at the boarding sign. I started to brace myself for the 9-hour flight and 7-hour time zone adjustment ahead of me. I stepped foot on my plane in Detroit and was ready to go somewhere I have never been before.  I was going to Germany.
So What Is GESS?

GESS is a weeklong program that invites 35 students from 24 different countries to come together in four different locations around the world to develop an entrepreneurial solution to solveglobal challenges. Each year has a theme for a global problem; the previous year had the students tackling the problem of immigration, and this years theme was to come up with a solution for consumption. The students were separated into 7 teams of 5 and were taught methodologies of entrepreneurship from leading experts in Munich such as Andy Goldstein and Klaus Sailer. Some of the topics included were: design thinking, the business model canvas, conducting market research, building financial statements, and storytelling. 
The whole week was broken into a guided journey that starts at finding a problem all the way to presenting a pitch in front of a crowd (including some angel investors). The only rules behind the business idea were that it had to have massive scale and social impacting factors. Some of the social factors included carbon emissions decreased, reducing water usage, reduction of waste, and other environmental or social issues. I have always wanted to build or be heavily involved in a social impacting business (specifically around waste management) and was excited to meet others that felt the same way.
Working On The Pitch
Upon meeting my group I was ecstatic to start brainstorming problems we could work on.  From backgrounds in environmental studies to the financial markets, from Cape Town, South Africa to Shanghai, China, it was safe to say our experiences in life brought many different arguments to the table. After getting to know each other a little better, we had the opportunity to travel around Munich and try to find problems and challenges affecting the lives of people around the city.  Everyone was separated into groups, I had decided to tag along with a group that was heading on over to Munich's recycling plant. When talking with the plant manager (thankfully one member in our group could help translate a few German words for us), we found that organic waste in household garbage bins going to landfills was a large problem. Not only for Munich but for most cities around the world that encourage waste separation at a household level.The garbage bins gets sent straight to the incinerator, not able to have a second round of filtering to extract any possible organic waste that was in these bins. We did it! I thought. We found a problem, now time to tackle the solution. We spent the day working through solutions. After ideas from a reward system to monitoring garbage at a household level, we couldn't find a scalable solution and decided to pull the plug. After working with our mentor, we shifted our focus from waste separation to co2 emissions. One member from my group had a background with environmental economics and brought up how transportation, flying specifically emits a large amount of carbon dioxide. Using the combined effort of the group, that's when we came up with FootPrint$. Our goal was to help decrease carbon emissions on an individual level while saving the user money.
The app would track your spending and carbon emissions then provides incentives and rewards to other environmentally friendly service providers or products in your city for completing goals or improving your daily habits.Throughout the week we had the opportunity to pitch updates on our business idea to the group and get feedback and suggestions from our peers. Let's just say after our first pitch to the other members, we had a lot of hands in the air…
We wrote down as much feedback as possible and went back to the drawing board. We changed the design, better defined what solution we could solve, updated our BMC, spoke with our mentor more often, and tried to pull together a product that made sense. It was pitch day and the team decided myself and another member was to present the app. The pitch went great and even got a few compliments on our pitching style. We didn't end up taking home the prize, that would go to HtoO. A bathroom tile mat trying to make showers shorter for hotels to save water, and money.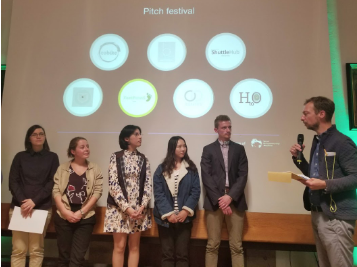 If you want to take a look at our pitch deck, you can find it here
I am still amazed at how fast the teams pulled together amazing social business ideas and pitches in under a week.  The work and dedication from the teams shined bright that pitch day.
Why I Will Never Forget This Trip
I have never felt a stronger connection with such a diverse group of complete strangers so fast in my life. Being one of the few from North America, I was raised to learn English in my household and was the only student in the group that spoke one language. After going out for drinks one last night in Munich, it was almost painful saying bye to those I have met only 7 days ago. I think the real reason I felt such a strong connection was the drive and compassion that filled the room every day. Every student had a vision and wasn't stopping for anyone: make the world a better place.
Some students had started and been running successful businesses, while others weren't able to have that same level of support from their country. I felt like I was able to bounce ideas off everyone and get real feedback to spark real discussions. There was no judging or being afraid to say what you feel. Everyone had a unique experience, encouraged you to talk and brought points of view that I have never fully considered before. I was talking with some members from Mexico and Africa about how they have to pay for plastic water bottles and other ways to source water because drinking from the tap would cause diseases. I also had a great discussion with some locals about how Germany offers free education. We talked about how much of a beneficial impact it can have to a family or a students mental health around financial stability, freeing up their thoughts and time to work on other projects without feeling the pressure of needing a job right away. Or how in Cape town, some people will jump and hang on the side of a train just to be able to travel to and from their work.
With so many articles and information being tossed at us, we can become desensitized to world issues and ideas. We can imagine and interpret how different it must be, but talking to those who live in different cities brings out a whole different story that is much more meaningful and impactful to our memory.  Rather than just reading a headline or a story behind a screen, I was able to see, hear, and feel the emotion from my colleagues. It opened up a new way for me to see how small the world really is.
Where to Next?
I never imagined myself being a traveler. After this trip, I think that statement has changed. I can now say I have friends around the world, and what a wonderful feeling that is. I look forward to more opportunities that will take me to new places, challenge my thoughts and beliefs, and connect me with amazing people. The world has too much to offer and people to meet, I don't think I'll be able to experience it all staying in one city.