Throughout the past year, the EPICentre has provided an outlet for over 2000 youth to get involved in entrepreneurship events through Campus Linked Accelerators (CLA), became a second home to 13 start-ups, and created 65 jobs through the companies kickstarted in the incubation space. The concept of the EPICentre was merely the brainchild of 20 Odette Business students and Francine Schlosser, Professor and Director of Research and Interdisciplinary Learning. Now, 10 years later the EPICentre has expanded into 6 different facilities including the EPIC Innovation Incubation Space, which celebrated its one year anniversary on Wednesday, January 20. This event was attended by over 80 students, alumni, community members and leaders. The success of the EPICentre would have not been made possible if it wasn't for the continued support and generosity of the Ontario Centres of Excellence (OCE), Dr. Alan Wildeman, Dr. Allan Conway, and Dr. K.W. Michael Siu. The EPICentre has grown to become one of the most distinguishable CLA's in the province. With collaboration amongst almost every discipline, the EPICentre continues to practice and innovate within its community and across borders.
Opening remarks were made by Dr. K.W. Michael Siu,Vice-President, Research and Innovation. Congratulations go out to Professor Myra J. Tawfik, who was recently appointed as the EPICentre Professor in Intellectual Property Commercialization and Strategy.
Following acknowledgements were made by Dr. Allan Conway, Dean at the Odette School of Business, who spoke about the history of the EPICentre and the progress of the EPIC Innovation Incubation Space through the years. Furthermore, Connor Holowachuk and Mina Ghali, past EPIC Founders participants, spoke on their experiences with the EPIC Founders program.
Stan Amyotte, Vice-President of Substrata Thin Film Solutions, shared his story about the impact that the EPICentre has made towards his journey for success. "The EPICentre has provided us with the building blocks that make up the foundation of our company. Not only have they provided us with space and funding, but they also provided the mentorship that is so essential for success. I owe where I am today to their leadership."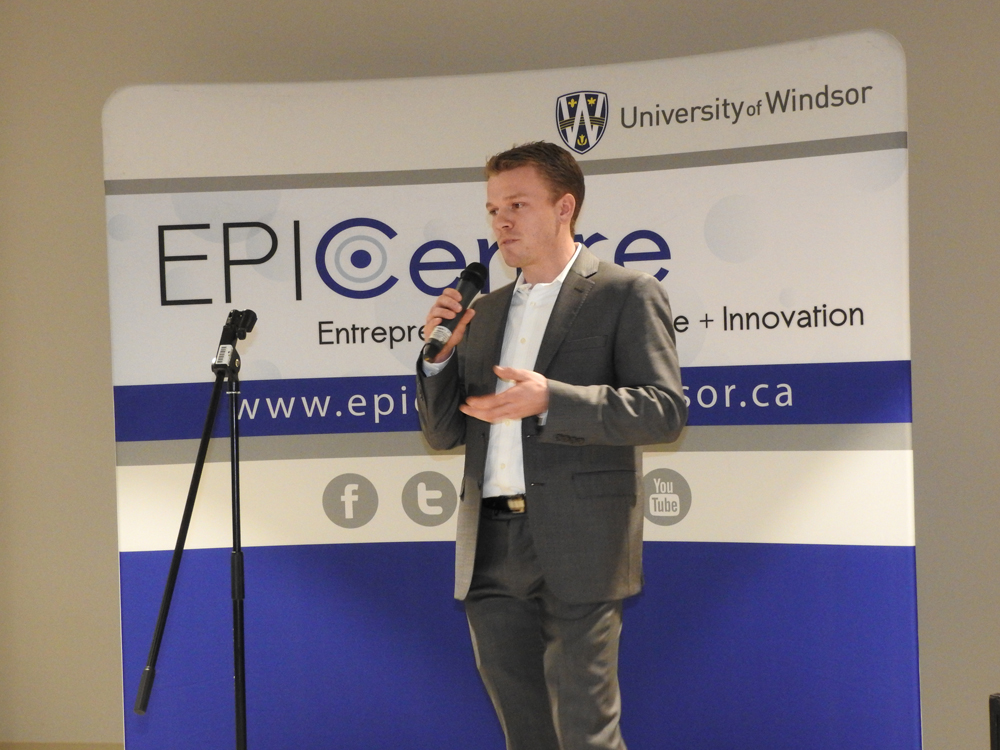 The Alumni Association was represented by John Renaud (BComm 01'), Celso Oliveira (BHK '08, MBA '14), and Beth Ann Prince (BA '91). The Alumni Association has generously donated $25,000 in scholarships to help support entrepreneurship based activities.
The EPICentre continues to inspire and support local entrepreneurs, offering 10 different programs aimed to help in the growth and development of entrepreneurial initiatives in the community. The EPICentre has raised almost $1 million from private donors to help fund its programs over the past year, and is committed to addressing the problem of a depleting population in Windsor by showing entrepreneurship as being a viable career option.