On March 23rd, EPICentre hosted its 3rd annual EPIC Blue Sky Competition, a student competition aimed at fostering entrepreneurial thinking in academics. This year's competition featured students from 18 different academic programs from the University of Windsor and St. Clair College.
Each team was composed of two to four students from a variety of different disciplines ranging from business to engineering to computer science to the creative arts. Students were tasked with creating a two-minute video that outlines an idea to solve a problem. The idea in question was to be innovative, inventive or improve on an existing product or service and there were no limitations on what the problem or idea could be, as long as it remained professional and entrepreneurial.
The Sushil Jain UWin Triple I Awards were awarded to the top three teams with the 3rd place team taking home $500, the runner-ups receiving $750 and the 1st place team winning the grand prize of $1,000. All three teams will also receive a free trip to Toronto to attend the Ontario Centres of Excellence (OCE) Discovery Conference in May.
The other unique aspect of the competition is that team members were required to come from at least two different disciplines. This ensures that the competition features a multi-disciplinary component and encourages student participants to network with other students from outside of their own program of study. Ultimately, the competition allows students to get some exposure to entrepreneurship on campus regardless of their program of study.
Last year's Blue Sky winner, Connor Holowachuk, is now a current incubator member at EPICentre after taking his winning idea from the Blue Sky Competition and turning it into a reality. Connor was also a part of the judging at this year's competition. We want students to not only dream up the idea but take it to the next level after the competition and we are hopeful that some of the winning teams will do the same. That is the ultimate goal.
An EPIC congratulations to everyone who participated in this year's competition. EPICentre would also like to thank the following individuals for their time and commitment in judging the video submissions:
Dr. Sushil Jain, President, South Asian Centre of Windsor
Karel Vredenburg, Director, IBM Design
Connor Holowachuk, Co-Founder, Eigen Advertisements
Sara Alhasan, Business Development Manager, Ontario Centres of Excellence
Results
1st Place: Pre-Shower Water Heater
Stephen Passador, Mechanical Engineering
Eric Parker, Electrical Engineering
Sean Santarossa, Electrical Engineering
2nd Place: Trunk Spaces
Aron Coccimiglio, Faculty of Law
Sonia Coccimiglio, Odette School of Business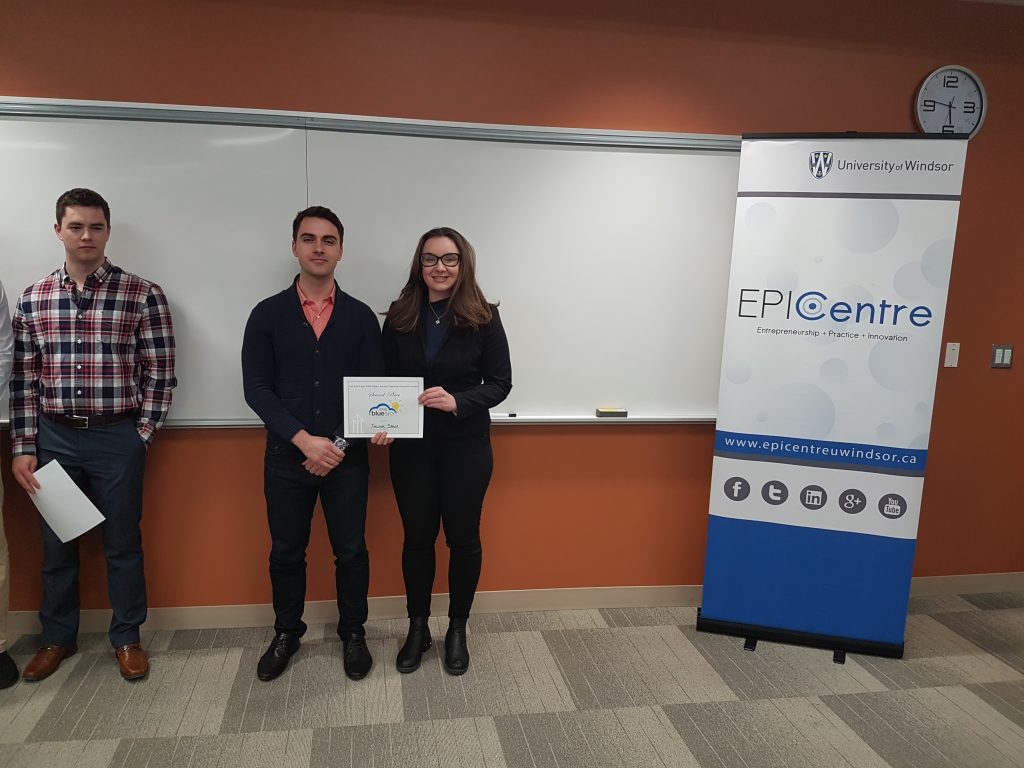 3rd Place: Student Pool
David Collins, Health and Biomedical Sciences
Noah Leschyna, Business and Computer Science