ENACTUS WINDSOR SECOND ANNUAL SHOWCASE
Enactus Windsor recently celebrated their 10th year anniversary at their second annual showcase, which was held at the Windsor Club on Saturday February 27th. Students, community leaders, alumni, family and friends came out to participate and enjoy a night full of awards, presentations and notable accomplishments from the organization throughout the years.
The EPICentre was present, and is proud to continue supporting Enactus Windsor and their endeavours.
ENACTUS REGIONAL EXPOSITION IN CENTRAL CANADA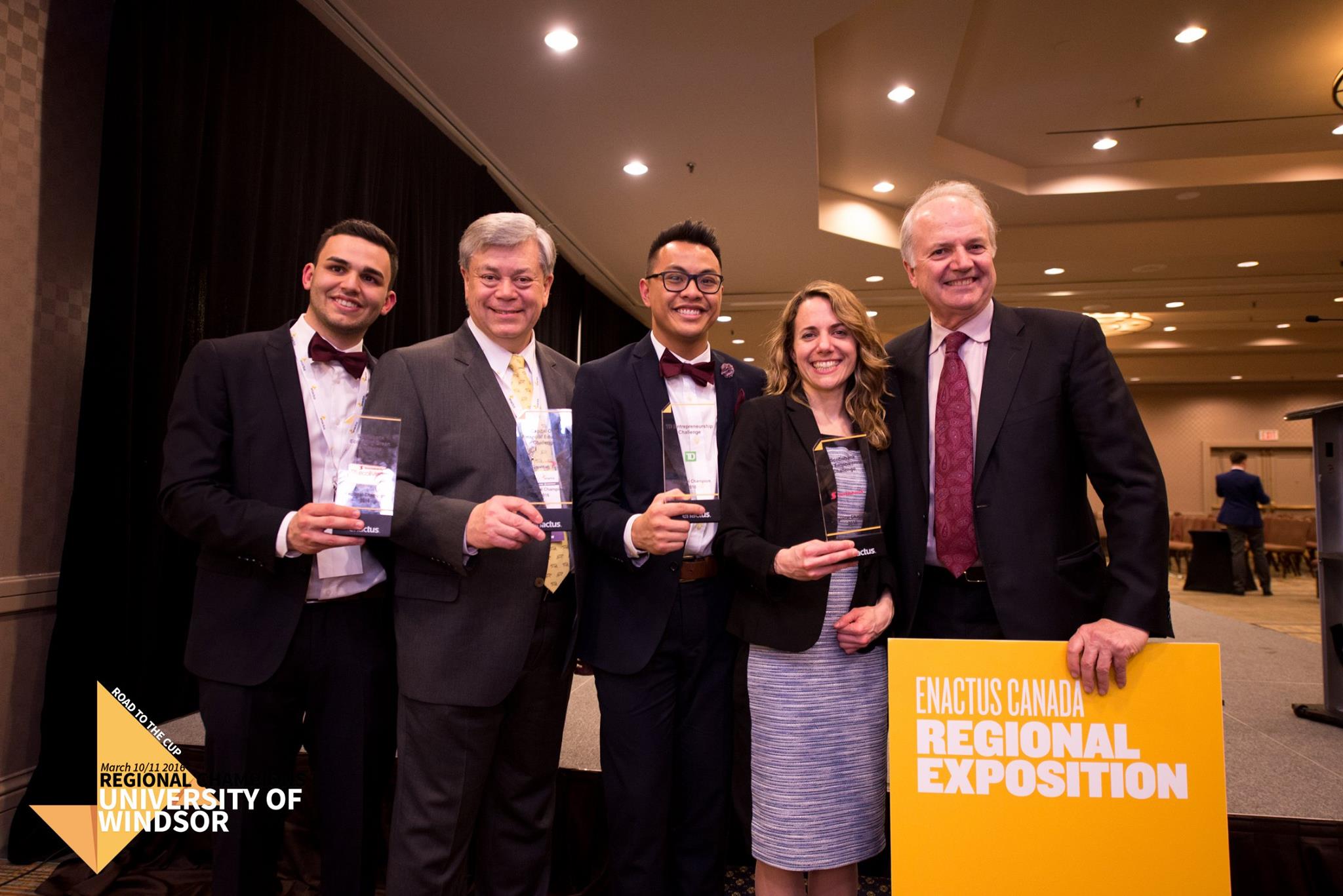 Enactus Windsor competed in the Enactus Regional Exposition for Central Canada on Friday March 11th. Over 26 different Canadian Enactus teams from Ontario and Quebec were present, competing for a spot at the National exposition in Toronto with over 70 teams altogether competing in four different challenges: TD Entrepreneurship Challenge, Capital One Financial Literacy Challenge, Scotiabank Youth Empowerment Challenge, and the Scotiabank Eco-Living Green Challenge.
The Enactus team from the University of Windsor placed first in all categories. Highlighted below are some of the accomplishments from the organization that each challenge team presented on.
TD Entrepreneurship Challenge
Seeing Opportunity: Windsor is one of the most ethnically diverse cities in Canada with 80,000 immigrants living in our city. 20% of these immigrants are unemployed.
Taking Action: Enactus Windsor developed a 12-week one on one consulting program called CookStart Inc. with focuses on finance, marketing, operations, and the creation of business plans in order to help aspiring immigrant food entrepreneurs.
Enabling Progress: $315,000 in revenue has been generated to date, with the program having enabled 43 food entrepreneurs, creating both 16 new businesses and 16 jobs. The program has since then expanded to include the demographic of struggling food businesses and culinary students.
Capital One Financial Literacy Challenge
Seeing Opportunity: Windsor holds one of the highest unemployment rates in Canada at 7.7% (a recent reduction from the longstanding 9.3%) and there is a lack of programs in the Windsor-Essex county that seeks to help address the need for financial literacy education in the city.
Taking Action: Enactus Windsor developed a 12-week one on one consulting program called CityThrive, which aims to help individuals get off social assistance and become financially independent through entrepreneurship. Partnerships with financial institutions across the city allows the organization to bring in various experts such as chartered financial accountants, business professors, etc. to teach lessons.
Enabling Progress: CityThrive has graduated 41 participants, 11 of which are successfully off social assistance, saving the City of Windsor $330,000 and counting. 41 participants have gone through this program since it's inception in 2012, 12 of which were from the fall semester alone.
Scotiabank Youth Empowerment Challenge
Seeing Opportunity: With the youth unemployment rate on the rise and currently sitting at 22% in the Windsor-Essex County and poverty rates at 25%, Enactus Windsor sought to address this issue through the creation and implementation of youth-run businesses.
Taking Action: Enactus Windsor developed a 10-week curriculum based program which empowers high school students to start their own businesses and create a future for themselves, one where they become their own boss. All high schools participating in the program for the current semester will get together at the end to compete in YouthX, an exposition which showcases all the businesses which were created by young entrepreneurs in that term.
Enabling Progress: To date, the three year old project has generated over $200,000 in revenue for high school students, with $48,000 from the past two semesters alone. 500 students on average will go through the Youthrive 2.0 program each year.
Scotiabank Eco-Living Green Challenge
Seeing Opportunity: Lung cancer rates sit at 20% above the national average, and even double in some areas of Windsor.
Taking Action: Enactus Windsor decided to tackle this problem by starting with the youth. Using the original Youthrive 2.0 model, Enactus Windsor started an additional program stream for grade 7 students to start their own eco businesses in order to reduce the waste in Windsor, as well as create a revenue stream for themselves. Tailoring the curriculum to provincial wide standards, this program can be implemented across all Ontario school boards.
Enabling Progress: This project is fairly new, having only been piloted this past January at a local elementary school. The program is currently running in 2 classrooms, directly impacting about 50 students altogether. In the upcoming year, it is projected to be in 20 schools.
ABOUT ENACTUS WINDSOR
Enactus Windsor is a local chapter in a growing international community of student, academic, and business leaders who are using entrepreneurial action to create a more sustainable future. The non-profit organization was founded in 2005 by four members out of the Odette School of Business, eventually growing to 110 members this year. This past February 2016, Enactus Windsor celebrated their 10 year anniversary.
BREAKDOWN OF PROJECTS CAN BE FOUND AT
www.enactuswindsor.com/projects
INTERESTED IN JOINING?
SOCIAL MEDIA ACCOUNTS
www.facebook.com/enactuswindsor
www.twitter.com/enactuswindsor