Working in an open-concept innovation space has not only allowed us to join forces with some seriously amazing local start-ups, but we also have the opportunity to see first-hand the incredible work that Yvonne Pilion and her team at WEtech Alliance put into their vision every single day and that includes hosting Tech Week YQG. This week-long event invites community members out to multiple events highlighting the tech sector in the Windsor-Essex community.
EPICentre had a chance to check out a few of the events at Tech Week starting with Tech Enabled (powered by AlphaKOR). Keynote speaker Casey Lynn of Google Canada's Strategic Partnerships team enlightened us with a presentation on consumer needs and consumer habits. Her presentation was informative and entertaining as she weaved shared internet experiences with high-level statistics to further help attendees understand the relationship between business and consumer in this modern age. Casey's talk was followed up by not one but two panel discussions. The first panel was moderated by WEtech's Director of Venture Services, Adam Castle and featured Frank Abbruzzese, President of AlphaKOR, Kulveer Virk, of a major 3 OEM, and Allie Mistakidis, owner of Whiskey Jack Boutique. The second panel discussion featured Brian Hendel, President of Splice Digital, Ali Al-Aasam, Co-Founder of Red Piston Inc., and Joanne Morency, Director of Sales and Marketing for Kelcom.
The discussions could have gone all night as audience questions kept coming in via text. Tech enabled gave attendees a glimpse into the technology solutions that are helping revolutionize small businesses.
Next was Tech Women (powered by St. Clair College Zekelman School of Business). Keynote speaker Claudette McGowen, Chief Information Officer, Enterprise Technology Employee Experience at BMO, gave a speech that will leave the audience feeling empowered for weeks to come. She shared anecdotes of personal experiences and journeys of growth that lead her to the woman she is today – an award-winning, globally focused information technology leader, publisher of 5 books and also had the opportunity to interview the former First Lady, Michelle Obama at Canada's leading tech and innovation festival, Elevate. Her speech concluded with a Q&A session moderated by local leader, Sherrilynn Colley-Vegh. The two women had an open discussion about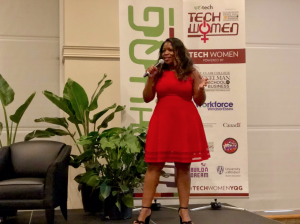 inclusion in the workplace, empathy and finding your voice.
Finally, WEtech hosted their Tech Awards (powered by Deloitte) on the final day of Tech Week. The Tech Awards help recognize tech innovators of all stages for their achievements and success in the Windsor-Essex community. Jesse Thompson, Founder of HaggleFree and First Place winner in this years RBC EPIC Founders Program took home the award for Tech Startup of the Year! Additionally, Professor Myra Tawfik, Professor of Law and EPICentre Professor of IP Commercialization & Strategy was awarded Researcher of the Year!
In Summary, Tech Week had something for everybody and we are so excited to see what the WEtech team has in store next year!