Hello readers! My EPIC adventure is over and I'm back home in Mexico now. I promised to write once settled down and, to be honest with you, that hasn't really happened. My return was a little more chaotic than I thought it would be and it took me more than planned to finish this final blog entry.
Maybe I feel a little bit more pressure because it is the very last blog post and there are not enough words to share everything I would love to share with you. Before returning home, I was able to visit Niagara Falls, Toronto and Montreal. I had amazing adventures and visited incredible places. I also had some revelations with some friends I had met in FoCUS last year, during a time of so much uncertainty in my life. We gathered in Toronto and talking with them was crucial for me to stay strong and keep looking forward to new projects upon my return.
I was, for the very first time, satisfied enough with my trip to look forward to returning home. I went to the airport with nostalgia and great memories, of course, but with immense gratitude for the summer I had just experienced. You should have seen me with all my luggage–it was insane, honestly. I don't know where everything came from, it just appeared at the last minute.
I did a layover in Dallas, Texas, where I was able to make a call to my best friend, who was also boarding his plane to Spain for an academic semester. I was returning home and he was just leaving on an adventure of his own (P.S. this friend of mine is just awesome, he prepared a surprise farewell party for me before I left for Canada).
When I landed in Mexico City, some friends picked me up from the airport and took me out to have Pozole for dinner before travelling to Guadalajara. You have no idea how much I missed Mexican food! In fact, this photo says it all: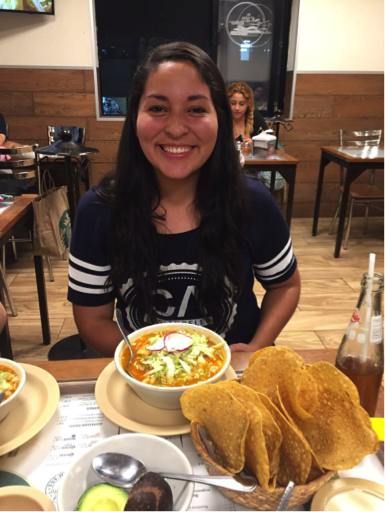 That weekend I received a lot of visits, after hibernating for almost an entire day, of course.
When I got home, everything looked different, especially my bedroom. It didn't feel the same. My brothers were taller, my parents were acting super weird and even some friends were treating me differently. So who changed? Me? Them? Their perception of me?
Coming back to school after having missed two weeks of classes was chaotic and heartbreaking without a lot of my closest friends around because they all left to travel abroad for a semester. I am so proud and happy for all of them! I know that you are enjoying and embracing this experience as I did. It was difficult to come back and not see my close friends, but I wish them the best and cannot wait to see and hear about all of the new memories and adventures. Go conquer the world!
I finished my previous blog entry talking about how every adventure is part of a bigger journey and, let me tell you, I really threw those words around without really knowing what to expect with my life, but only with the certainty that it was time to come back.
Things are going well in general. I have been able to reconnect with amazing friends that always help me and encourage me to give my best. It's amazing to have an entire network of support and to plan new, ambitious projects with them.
I'm also back at my job at Letras para Volar, where we work to promote reading among scholars. It's soul filling how we can see the tangible outcomes from every single task we accomplish as a team. I love the vision and the idealism of planning amazing projects and facing new challenges as the organization continues to grow. It's simply amazing to be part of something bigger than any one individual.
Even though not everything was perfect during my time in Canada, when I returned home, I faced some really significant gaps when it comes to security. I think I never really realized that Mexicans face insecurity and violence so often that we normalize it. And it's even worse when talking about women because we normalize it by justifying men's actions!
It's very frustrating how the dreams of talented people and the success of amazing companies are being taken away by corruption and insecurity; however, situations of crisis test our endurance, our grit and our capability of response in times of emergency and our strength as individuals.
Speaking of strength…let's talk about my dear Mexicans. As you might have heard, my home country Mexico suffered a lot this past September with two earthquakes. On September 19th, we were doing a national simulacro remembering a fatal earthquake that happened exactly 32 years ago when it happened again. The '85 disaster, as it is often referred to, was defined by the ineptitude of the Mexican government to react to a crisis in a timely fashion, so this time around Mexicans didn't wait for government action to rescue them, they saved themselves.
I saw a strong Mexico because of its people! I saw millennials, those whom media has tagged as easy-going, selfish and uncommitted people, working 24/7 to save strangers' lives and their homes. It was heartbreaking to see how much others were suffering, but also empowering to see how big people's hearts are to help in times of adversity.
My university, the Universidad de Guadalajara, contributed to assisting affected people with all the aid needed. Their actions were also backed up by my current job, where we sent brigades to give not just food and medicine, but toys, books, hope through words, companionship and a friendly shoulder to rely on. My sense of ownership with my university and, of course with my country, are stronger now and even though my plans are to travel abroad again, I'm sure that for now, my mission is here with my people and my country.
Now that I look back, the entire experience seems like a dream. This internship was an open door to me. Without really knowing, I found that this experience can bring me back to Canada with financial support for a Masters or a Ph.D if I decide to apply for a fellowship. This is not a goodbye, we might gather again, maybe in different stages of our lives and with better versions of ourselves!
This summer, I also grew as a person. I met amazing people that I'm now glad to call my friends. I learned a lot from every single person I met. Being able to know them beyond their business or careers was something really valuable to me; thank you to all for receiving me the way you did and for all those amazing memories we shared in Windsor.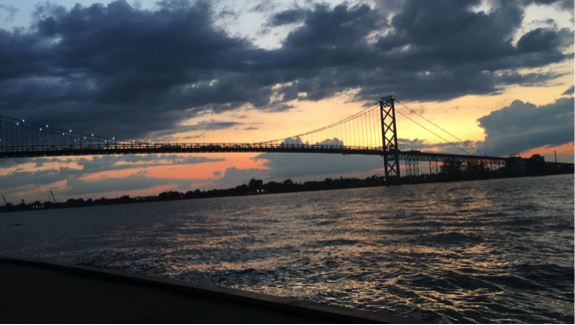 One Mexican writer says that we live our lives waiting for the perfect time to do something, that life is like a rollercoaster and we keep waiting to pass the climb, and the fall, and one turn and the other to act, never really acknowledging that that's what life's all about and there is nothing to wait for. I continued writing this because things in life won't be completely solved. You will have to go through each day figuring things out. However, uncertainty hasn't paralyzed me…I've been working even harder on things that I am passionate about in order to find what my true purpose in life is.
I want to finish this edition by sharing one of my favorite quotes ever, because I really question myself when I'm about to make a big decision, sometimes I even panic, but let me tell you that those uncertainties are the things that make me who I am and keep me looking forward to the next challenge.
"I always did something I was a little not ready to do. I think that's how you grow."  –Marissa Mayer
I'll keep growing and I hope you do the same. Feel free to reach out to me at any time and to visit if you are able to. It has been a real pleasure!