On November 8th, 2019, EPICentre kicked off it's 4th annual RBC EPIC Business Model Canvas Competition (BMCC). This competition welcomed post-secondary students to showcase their business validation process using the Business Model Canvas – a visual outline with elements detailing a company's value proposition, infrastructure, customers, and finances.
The 2019 competition welcomed twelve teams which comprised of undergraduates and graduate students from the University of Windsor, University of Waterloo, University of Guelph, University of Toronto, and Hult International Business School.
EPICentre welcomed all of the teams at the University of Windsor, School of Social Work in downtown Windsor on Friday evening. Participants received a fun and interactive pitching workshop hosted by Meaghen Quinn, University of Windsor Dramatic Arts teaching artist before having the chance to hear from Roger Kirkness, co-founder of Convictional – a Waterloo born startup that raised over $3 million in seed funding since 2018 – at St. Clair Centre for the Arts.
Teams had an early start Saturday morning at the Odette School of Business where the formal competition officially began. The semi-final competition welcomed twelve judges from our local business community (for a full list of judges, please click here). The tension was high as only six teams with the highest scores would go on to the final round.
All semi-finalists were eligible to win the Postmedia's People's Choice Award – $2,000 in-kind advertising by Postmedia, as well as, the KPMG Financial Competency Award – a $750 cash prize. The top two prizes were only available to the finalists – first prize was a whopping $10,000 cash, sponsored by RBC Foundation, and second prize was $2,500 cash prize, sponsored by EPICentre.
Following the semi-final competition, all the scores were tabulated, and the six finalist teams were announced. Finalists had approximately 1 hour to prepare for the final competition, which would be judged by a set of new judges. The top two teams with the highest scores would determine the winners of the cash prizes.
To see all of the finalist presentations, please visit: youtube.com/user/epicentreuwindsor
The winner of the People's Choice Award, KPMG Financial Competency Award and second prize, was Neophyto Foods from the University of Guelph for their innovative plant-based food company that manufactures plant-based cheese. Watch their final presentation here.
The winner of the top prize was Diffusiv from the University of Waterloo, which is working to develop a thermo-responsive sticker to help with temperature monitoring to detect the source of meat decay. Watch their final presentation here.
EPICentre would like to congratulate both teams on a great pitch and fantastic demonstration of the Business Model Canvas.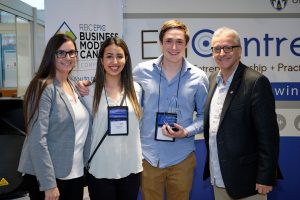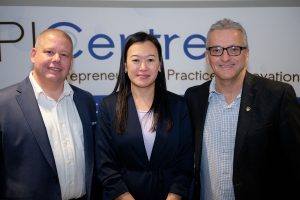 Thank you to each community leader who contributed their time to the 2019 BMCC. And thank you to the Royal Bank of Canada (RBC) for their continued support of this initiative.
For more information about the 2020 Business Model Canvas Competition, please visit: epicbmc.ca